Welcome to the Jelly Jump Press page.  Here you should find any info you might need to post articles or get more informed about he jelly jump.  If you need any additional information posted to this page or would like anything provided in a different format, let us know and we'll make it available.
Download Press Kit Here
AllPressAssetDownload.zip
Fact Sheet
---
Developer:
Big Bang Games
Based in Hyderabad, India.
Release date:
Sep 5th 2017
Confirmed platforms:
Ios, Android
Website:
http://www.ghriantech.com/bigbanggames/
Description
---
Meet the Jelly who wish to explore the outside world. Help him reach new heights bouncing from level to level. "Jump higher, survive longer and never give up!" In this Jelly Jump game, collect Coins and Diamonds to unlock his friends so that they can see the outside world too. Stay away from spikes, enemy birds and angry owls. Avail exciting rewards from the gift box.
How to play Jelly jump game?
Jelly Jump is a single tap game. All you need to do is single tap to dodge and double tap to advance to next level. It is as easy as it sounds and yet again as difficult as it gets.
Features
---
Single Tap Jelly Jump game.
Simple yet challenging gameplay that counts on your quick reaction.
It has different characters to unleash.
Hourly Surprises.
Collect coins and diamonds to get to higher scores.
Challenge your Friends by sharing your best scores.
Press Release
---
Logo
---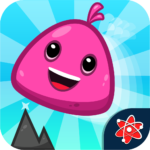 Download Press Release
---
Awards
---
Not Yet
About Big Bang Games
---
At BIG BANG GAMES, we have one goal, and one passion to have lots of fun while developing, and to turn that fun into top-notch games by our really talented team. Since our founding in 2015, we have worked to take that passion and build a company culture around it. We believe that a great team is a product of two things great talent, and a great working environment. They maintain a symbiotic relationship with our products – the better our team and our environment, the better our games.
We maintain a flat structure, encouraging constant iteration and innovation, working hard, while still having fun & friendly environment, and being open and communicative in everything we believe our culture has allowed us to create games played by hundreds of players around the world. After all, when it comes down to it, we're in the business of creating happiness and fun – shouldn't a successful team be happy, and having fun, too?
Contact
---
Business and Press Inquiries:
marketing@ghrinatech.com